I have had this outfit in my head for months, literally, but have never had the time to get around to it. I finally decided it was now or never, since the outfit is so Abby, and really fits her personality right now. :)
So I pulled out my hoarded Heather Ross Dreambikes on Pink, took a deep breath, and began cutting. I love this print, because the banana seat bike was MY dreambike when I was a little older than Abby is now. I wonder if they still make those bikes? If so, Abby needs one!!
The dreambikes became a shirt with simple lines to show of the print, a simple peasant blouse. I then made her a pair of chocolate brown capris, because I am really in love with all combinations of pink/brown and blue/brown lately.
Here's what came out of my labor of love: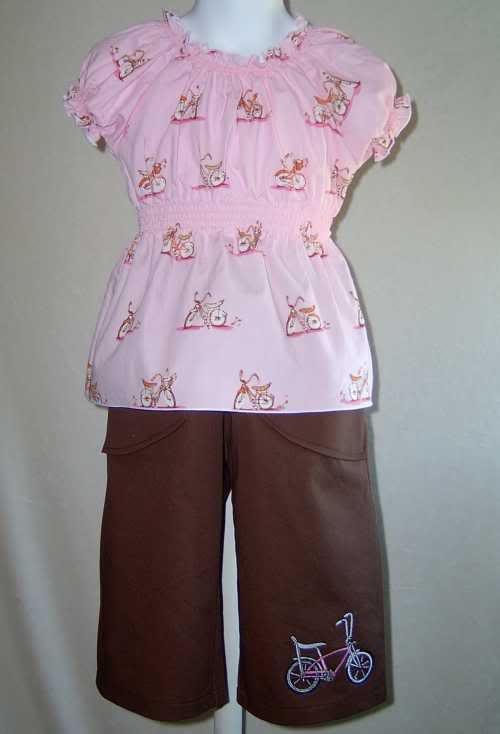 And it was all worth it for this giddy little girl:
Seriously, how cute is she?? She also has a matching dreambikes headband, but we couldn't risk messing up the braids done by her most awesome preschool teacher!
The perfectly matching embroidery came from Embroidery Online and stitched out very nicely on my Janome. I was quite pleased :)
So now my poor abused child has one new outfit for spring, and I have also been bitten by the shirring bug. It usually hits this time of year. I have visions of gorgeous shirred sundresses dancing in my head!