The good thing about visiting family for Christmas over New Years is that it gives me some extra time to get things done, and relieves a little bit of stress!
Our nieces on Dan's side are all little girls. Five little girls, all about six months apart in stair steps (although Draya is the baby, being two years younger than the next girl). They are hysterical together. But I know these girls are like mine, and don't want for anything. So for Christmas, I always try to come up with something unique. This year, I found great big huge coloring books, and made them each a personalized bag to keep them in: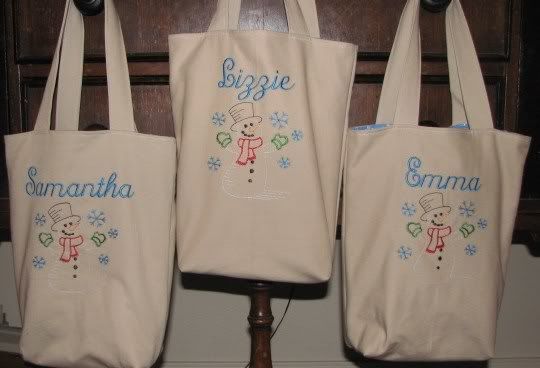 To complete the set, I also made a matching crayon roll (loosely based on this
tutorial
). There is a pocket in each bag to keep the crayon roll neat and tidy.
I really had a lot of fun making these, and they just turned out so cute!
Next project for the weekend was to work on some clothes for my youngest, who is in between sizes, and just tall and chunky. She's sort of hard to fit (although, as I keep telling her, she would be easier to fit if she would choose to use the potty instead of being stubborn about being the baby and staying in diapers, but that's another story....). So today I made her a shirt from an overrun of mad sky chickadees, and some dark brown no wale cord pants, with a simple embroidery to match:
The pants are big, but not enourmous, and will give her some much needed growing room. I just love that chickadee print, it really makes me smile to see it on her.