People ask why I sew, and then sum it up to a hobby. Which it is - a pervasive, consuming hobby! But I realized as I worked on my latest project that sewing is so much more for me.
This week at KandF Shops we are doing an Easter theme (gosh, Easter is early this year! Yikes!!). I have the perfect Easter Fabric, it's sweet and pink and has flowers and gardening tools and the sweetest little bunnies peeking out of flower pots. I pulled this fabric from my stash, knowing it would be perfect in theme, and felt a sense of desperation. I looked at what I had left (about a yard) and realized that dress I was envisioning would use the rest of this sweet fabric up, and I would no longer have it sitting in my stash.
I know you are thinking, "So what? Big Deal! There's always cute fabric, and your stash is rather, um, large anyway." The thing is, this fabric means so much to me. Seeing it and touching it takes me back to my little girls being babies. Why? Because my sister made Abby the sweetest spring outfit using it -- a onesie from the fabric, and then the cutest sherpa leggings and a sherpa jacket with little bear ears on the hood. She then gave me the remnants from that project, and I made Draya a little bitty baby outfit from it as well. And then she wore the sherpa outfit as a hand me down.
So as I fondle this fabric, which in reality is probably nothing special, just a nice cotton knit, I am taken back to when Abby received that cutest little bear outfit. And then to Draya snuggling in her romper type outfit from the same fabric. You know how they say a smell can bring back a memory? Fabric does that for me.
However, it was too perfect not to use. And while I mourn the loss, I hope some little girl and her mommy will find joy in the last of this fabric: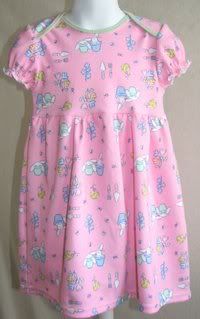 And those are my somewhat sappy mommy reflections for the day :)